The VOX Secretary General opened the new VOX headquarters in Palencia accompanied by the national deputy, Julio Utrilla and the President of COGEP, Sonia Lalanda on February 27.
During the inauguration Javier Ortega Smith highlighted the work done by the members of the provincial manager during the last year, in which VOX has become the third political force of the capital, progressively increasing the votes in the elections that have been held during 2019.
The Secretary General of VOX, accompanied by the national deputy for Valencia, Julio Utrilla, extolled the work done by the VOX Municipal Group in the City Hall of the capital, stating that: the "institutional loyalty of VOX, is based on support for any initiative that is good for the people, regardless of the party that presents it, be it the PP, Citizens or the PSOE "or whatever party"
As for the new provincial headquarters, Ortega Smith pointed out that: »It is not a place where you can come to spend the afternoon or have a coffee, but the people who are in VOX know what is coming: to contribute and to work»
On the other hand, Julio Utrilla highlighted the excellent work and tireless work that Sonia Lalanda has been developing since taking the reins of the party in Palencia
Likewise, he made a very positive assessment of this year since VOX has achieved representation in the City Hall of the capital and »has carried out impeccable work» in the town hall and in the direction of the party.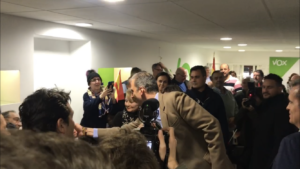 For its part, the President of COGEP, Sonia Lalanda, thanked the presence of the Secretary General and the national deputy, and stressed the importance of teamwork by the members of the manager and the volunteers and affiliates of VOX Palencia, who already They touch 200.
Ortega Smith also took advantage of his stay in Palencia to meet with representatives of professional agricultural organizations (ASJA, COAG and UPA) and businessmen (CPOE), to know directly and personally the reality of important economic sectors for the present and future of Palencia, ending this round of meetings with the one held with the mayor in the City Hall of the capital.
Also, during these meetings, Javier Ortega Smith, referred to the specific problems that are affecting the agronomist, livestock and business sectors of the province, such as:
.-the need to find support for the increase of irrigation from the province
.-the plague of voles
.-the need to adopt traditional measures and practices to end them or the infrastructures that allow the transport of agricultural products.
As a result of the encounter with the businessmen, these could transfer the situation of the business fabric in Palencia and its concerns around strategic issues related to the regulatory framework, training, taxation, digitalization, financing, sustainability and internationalization.
Finally, the VOX Secretary General emphasized the need to unlock the situation of the Vocational training so that «it is the business demand that finds the corresponding offer in the world of FP thus guaranteeing the job»
https://thespainjournal.com/wp-content/uploads/2019/05/logothespainjournal-2.png
0
0
thespainjournal1
https://thespainjournal.com/wp-content/uploads/2019/05/logothespainjournal-2.png
thespainjournal1
2020-03-02 18:54:52
2020-03-02 18:54:52
Javier Ortega Smith inaugurates the new VOX Palencia headquarters