December 16, 2020
The Parliamentary group VOX in Aragon organized last Saturday in Zaragoza an act of homage to Víctor Laínez. In memory of who was murdered three years ago in a bar in the city.
Relatives and representatives of VOX in the Aragonese institutions gathered in the small square near the place where the brutal aggression took place.
The president of the Provincial Executive Committee of VOX Zaragoza, Julio Calvo, opened the event. Calvo stressed that Víctor Laínez died "for exercising a right that is exercised naturally in the rest of the world. That it is none other than honoring a symbol of your nation.
The lawyer for the popular prosecution and VOX regional deputy, David Arranz, then intervened. In his words he remembered that he had savagely ended the life of a good man. For wearing suspenders with the flag of Spain.
Some suspenders, according to the Aragonese parliamentarian, which have become a symbol in the fight for freedom, justice and for the homeland. Against the hatred, radicalism and intolerance of the extreme left. And Víctor Laínez, in one of his "fallen".
Arranz indicated that they are awaiting the appeal filed by Lanza's defense. "We trust that justice will be done again and that appeal will be dismissed, ratifying the sentence of 20 years in prison for aggravated murder."
On the part of Víctor Laínez's family, his sister-in-law Raquel Julián, read a few words from Javier Laínez. Words of thanks for feeling wrapped up. But also words of pain. "The worst of all is seeing the support that his murderer still has." Victor's brother could not make his full speech due to emotion.
The Secretary General of VOX, Javier Ortega Smith, then intervened. To honor a man who "knew how to defend his country" with "loyalty" and "honor." And that "he died as no one deserves to die, from behind", "for no reason at all." Ortega Smith referred to Víctor Laínez as "a good man" who died "unjustly at the hands of an evil murderer."
Following the words of the Secretary General of VOX, the family of Víctor Laínez was presented with a bouquet of flowers and the portrait of Víctor who presided over the event. A minute of silence and the national anthem put the finishing touch on an endearing and emotional act.
The circumstances and limitations of COVID-19 caused the call to be restricted. The capacity was allowed, but the tribute and memory expressed to Víctor Laínez were overwhelming.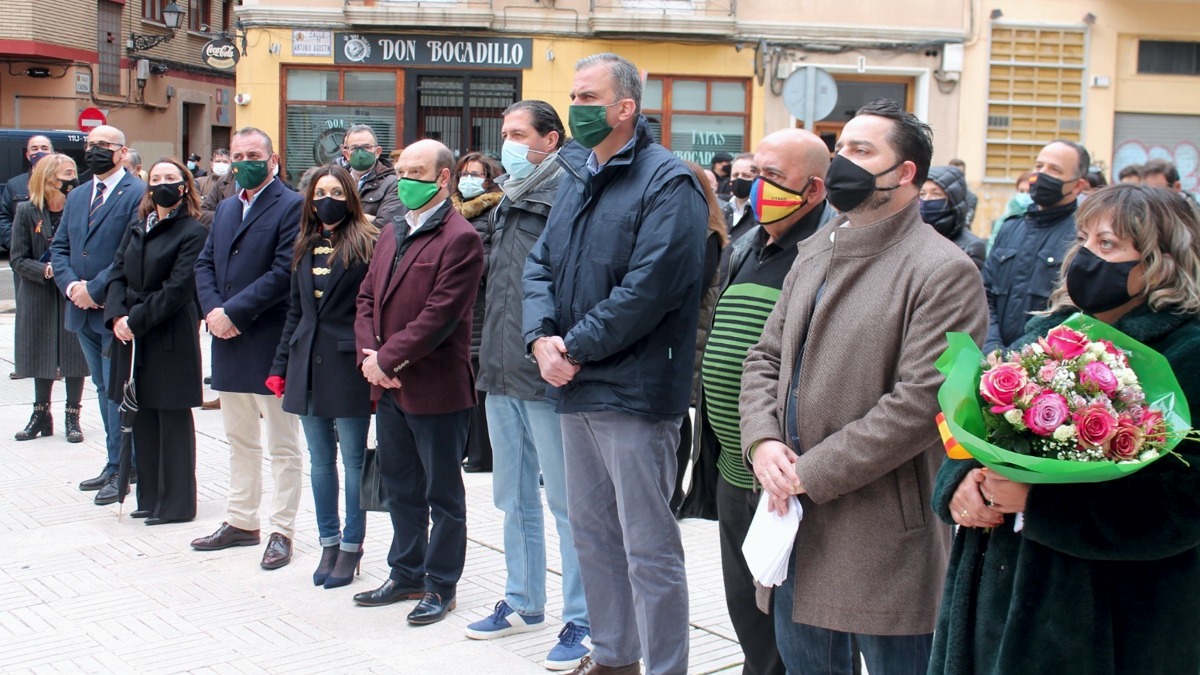 https://thespainjournal.com/wp-content/uploads/2020/12/homenaje-voctor-lainez-zaragoza.jpeg
675
1200
thespainjournal1
https://thespainjournal.com/wp-content/uploads/2019/05/logothespainjournal-2.png
thespainjournal1
2020-12-16 16:48:55
2020-12-16 16:48:56
Tribute and memory of Víctor Laínez with his relatives